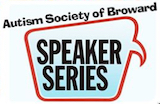 This month's Autism Society of Broward Speaker Series featured autism expert, Ms. Vicki Martin, who gave an interesting and thorough discussion assessing the medical causes of behavior in ASD, and my talk covering some of the latest biomedical treatments for autism.
Purpose – Improve our Understanding of the Range of Treatment Possibilities


Doctors get questions about these more-than-off-label treatments quite often, so it's necessary to be current about the literature in order to give a learned response. It's like homework.


I have an opportunity to give something back to The Autism Society of Broward. It has been my pleasure to have served on this Board for over 6 years. This not-for-profit (and, trust me, we have very few $) organization brings services, such as yoga, sensory-friendly movies, and golfing, etc., to the family level.


Public speaking is always a networking opportunity. There are parents who may not know about The Child Development Center of America and how simple protocols may improve outcomes, especially when they are combined with the traditional therapies. Attendees ask questions and learn about our medical practice.


It's fun to discuss these topics, and more interesting than reviewing epidemiological data that questions whether autism is an epidemic.
Topics of Discussion
These were not necessarily chosen because they are truly the most recent or popular, but mostly because they have been hyped a great deal, lately, by social and other media.
Cannibidiol
Improvements have only been accurately documented, so far, in ASD patients with seizures. Any other use of the product at this time is purely trial-and-error, and the safety of hemp oil extract safety in children has yet to be proven. To the extent that patients may be able to take equivalent dosing, more information will emerge. The myriad of patients who try it, however, complicates evaluation about efficacy.
Helminth Therapy
While this unusual treatment of administering live organisms to successfully restore-reset immune function has been documented in adults with specific conditions, as concluded in a recent review, "Studies are needed… to move helminth-related interventions that show promise in animals, and in phase 1 and 2 studies in human beings, into the therapeutic development pipeline."
Chlorine Dioxide (CD)
Following up on that 'worms or elimination of worms?' question was a discussion about Chlorine Dioxide (CD) treatment. I ain't sayin' that it cannot/does not work in some individuals, but there are problems.
1. The science is weak and contradictory. There is no supporting research for terms, such as "Parasitological Vaccinosis."
2. The main proponents, so far, are, the mother of an affected child, and scientist with questionable credentials.
3. Treatment can be risky.
4. Treatment involves a fair amount of resources; including frequent administration (every hour, sometimes), adjustment of dose, and which specific sites on the body to administer a dose (systemic, eyes, ears, rectum, etc.).
Oxytocin
This peptide, which is produced in the brain, has been called the 'love hormone', and has been shown to be deficient in some patients with ASD. Animal models have demonstrated improvement, though humans haven't responded the same way.
The most recent prospective, controlled, double-blind crossover study that involved 31 patients, demonstrated improvement. This has not necessarily been the experience at The Child Development Center of America, where it has been used for over 4 years, yet only a handful of parents continue to administer the product.
Transcranial Magnetic Stimulation
This type of mechanical device has been used for over a decade outside of the US, but has recently received FDA approval as a device for "major depression in adults who failed to improve on medication." This is an expensive treatment option, in the range of $6,000 – $12,000 or more, and requires daily 1/2 hour treatments.
Adverse effects are listed as fainting, possible seizures, pain or discomfort, mania, changes in cognition, and transient hearing  and memory loss.
A recent review stated, "Though preliminary data suggests promise, there is simply not enough evidence
yet to conclusively support the clinical widespread use of TMS in ASD,
neither diagnostically nor therapeutically."
Essential Oils
There is a paucity of literature to support the use of these products for patients who exhibit signs and symptoms consistent with ASD. On the other hand, they are relatively safe, have been around since the beginning of civilization, and do not cost a great deal to try. Furthermore, there are many studies demonstrating improvement in processing with occupational therapy and other 'sensory diets'.
As in many of the other treatments, this has demonstrated the least improvement in our most apraxic and/or disruptive individuals.
Conclusions
• Present medical therapies are woefully inadequate.
• Many treatment options have been offered, but few have undergone sound scientific scrutiny.
• Parents, desperate to help their non-typically developing child will be tempted to pursue less-than-helpful, less-than-safe protocols.
• For the lesser affected patients, many forms of treatment will help.
• For the most affected patients, such protocols offer only spotty improvements.
• More research is needed. Physicians, who are in the best position to understand the complicated science, must understand the variety of presentations of autism and the myriad of treatment options in order to give families the best advice.