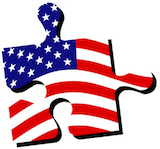 While the rest of the country eagerly awaits an exciting and fun-filled day, there are some families who will wonder how to get through the celebration. Here are the top 10 reasons why this can be so challenging.

The trip to see the fireworks may present the first hurdle. The closer the venue is to home, the better. There will be less echolalia, as in "Get there?Get there?" And, if you need to return early, it's a shorter journey.

Problems at The Beach, The Lake, The Mountain, etc. Dangers abound. Children with sensory issues do not necessarily perceive the experience as pleasurable; and families may be hard pressed to convince a reluctant child otherwise.

Sleep. Even if you can somehow avoid the hoopla, the neighborhood is awash in sights and sounds that can keep everybody going well into the night.

Dangerous smoke bombs, sparklers, and other explosive devices. Parents need to remain constantly vigilant, lest their affected child jumps in to join in the 'fun'.

Crowds. Relatives, friends, neighbors, and strangers are present in sometimes overwhelming numbers. Then, there are pets, clowns, and other terrifying distractions.

Parades. Waiting in line and jockeying to improve visibility of revelry that the children may not understand – or even look at – sometimes seems pointless and counterproductive.

The heat, mosquitoes, and outdoor environment can create more than the expected amount of whining, complaints, and rashes.

Off schedule activities. Often, children get used to any type of routine – even in the summertime. This becomes another day to explain why "We can't do… this or that."

The food. Many parents have to choose between enforcing a restricted diet, or letting a child 'cheat', perhaps leading to aggressive behaviors in the ensuing hours and days.

The Fireworks! Really loud noises and flashing lights that may terrify even neurotypical youngsters. Not fun for all.
Our national holiday is supposed to be a joyous family affair, and is often remembered fondly. Parents hope to pass the experience on to the next generation. In certain circumstances, the atypical child presents novel tribulations – including more than a few that couldn't have even been imagined.