A growing number of children with tiny genetic differences, known as copy number variations, have accompanied the steady increase of patients who visit The Child Development Center.
Often, the conventional advice is that 1) such anomalies are probably not significant, and/or 2) no information is available about 'that' particular abnormality.
Do not believe it if your doctor has only told you that, "The chromosomes were normal."
Take a moment to read the results yourself.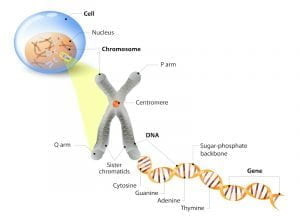 Chromosomes are structures inside our cells, mostly made of DNA. Genes, the basic building blocks of life, are located there. Suspected errors are sometimes only 1/1000 of an inch long! There seems to be a controversy about how different professionals understand the 'not enough – too much – transposed' pieces of DNA. How difficult is it then, for parents evaluate?
The basics about genetic results have been previously discussed here.
A specific description about copy number variation is described here.
Results are already available in children who have had a genetic testing, since they are included in the 'Fragile X test' (one of the known genetic causes of ASD).
Why perform a chromosomal test?
It should be required in all children who have a Spectrum diagnosis. It's much more likely to be positive than an anesthesia-requiring MRI or EEG (especially in the absence of seizures).
The argument that testing is not necessary because, "The mom is not having any more children," is specious. Such information can be quite important for the patient. If there are other people who have the same small chromosomal variations, they can add a great deal more knowledge about your child than merely Googling the cause and treatment of autism.
Additionally, as the future brings more and more information about the performance of those particular pieces of the chromosome – and the genes residing therein – there is added hope that it will lead to specific treatments, or regimens that might be avoided (such as, say, vaccinations) in affected individuals.
Which is the best chromosomal test?
For ninety-nine bucks, 23andme is not the best bet. A saliva sample yields information about ancestry, predisposition to certain traits (e.g., digestion, taste, metabolism, even HIV resistance). However, the SNPs (tiny genetic variations) that are tested are not indicative of ASD.
According to a formal consensus statement of genetic experts, chromosomal microarray (CMA) testing of the blood, "…offers a much higher diagnostic yield (15%–20%) for genetic testing of individuals with unexplained developmental delay, intellectual disability, ASD or multiple congenital anomalies…"
This is a >$1500 blood test (listed here) .
Lineagen advertises that their buccal smear test (a swab from inside the cheek) identifies the most number of changes that are related to autism diagnoses, and is superior to those offered by other labs.
The cost exceeds $5,000. Without insurance, that amount is often prohibitive. As data accumulates, so will the knowledge about the value and validity of this method.
How to read the results of chromosomal microarray testing?
Unless the microarray contains the text, "XX Normal Female," or "XY Normal Male, no abnormalities reported," continue reading and ask the lab or a trusted professional to interpret.
How to use the results of chromosomal microarray testing?
Go to the database SFARI gene,


Click on the Copy Number Variant button,
Click on the gene(s) with variation, and follow the table to the letter that best matches your child's findings.
Conclusions:
Parents often exclaim, "I don't care what the exact diagnosis is, just make my child improve!" However, the more precise the analysis, the more likely it is that treatment will better target each individual's physiology.
Knowing this information about your child is valuable – not only in the future, but adds to understanding and treatment for the present situation, as well.
Addendum:
(New York Times 5.14.15)
U.S. Introduces New DNA Standard for Ensuring Accuracy of Genetic Tests
(Journal American Medical Association (6.15)
Copy Number Variations and Cognitive Phenotypes in Unselected Populations
Chromosome 7 flaws alter chemical tags throughout genome