Recent news about the increase in measles that has sprung up in California, has brought about the usual media finger-pointing, claiming that the cause is unvaccinated children whose parents unnecessarily worry about the risk of autism.
As documented in my previous posts on this topic, this physician believes in the value of those twentieth century miracles. Nonetheless, a lingering question remains, "Are all of the vaccinations safe and effective for all young children?"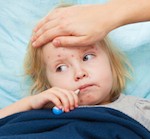 The Three Main Reasons for the Measles 'Outbreak'
Lack of Knowledge

We really don't know the reason(s) for the newest episode. The increase may have little to do with lack of compliance by anti-vaccination zealots. Many of the infected individuals were Disney workers who had probably already been vaccinated, and were no longer immune. Plus, the venue is an international attraction, with visitors from all over.

The Wakefield Effect – Any time there is any story involving vaccines and ASD, the controversial and now-infamous British study that implicated measles virus as a possible cause, seems to mar all perception and reason. Media pundits are quick to avail themselves of that ill-fated research.

Conventional medicine is still debating whether increases are merely due to changes in diagnostic criteria. Every week a new association pops up; including maternal weight, paternal age, environment and toxins, stress, and circumcision. If compliance is the issue, certainly such confusion shakes one's faith in the 'science'.
Polarization

The experts would have a great deal more validity and success, if they could add more understanding and kindness to their approach. Those who question the status quo are considered kooky, ignorant and ill-informed. That creates more polarization, with fewer parents possibly choosing to vaccinate.

Pro-vaccination declarations are rarely equivocal, and conclusions no longer contain the statement, "The topic deserves further study." Anti-vaccination supporters suffer a similar shortcoming, and conspiracy theories are a scientific distraction. There doesn't seem to be any compromise position.

Issues, such as the recent CDC whistle-blower case, or reports of safety violations have not been adequately addressed.

There still aren't any definitive, prospective, randomized, controlled, double-blind crossover studies with long-term outcomes evaluating various vaccine schedules to document safety. Holistic medicine is frequently chastised by the establishment for such an omission in alternative protocols.
Lack of Confidence & Trust

A great deal of money is handed to drug manufacturers to manage these vaccination programs. Concerns abound about whether large multi-national companies always have our best interests in mind.

The Flu vaccine fiascos that permeate each winter do not engender a great deal of confidence about how our medical establishment handles the inoculation issue.

The government continues to send out inaccurate and conflicting messages regarding our public health. Antibiotics in our food are proven unsafe, but the practice continues. There were 2 cases of ebola and Congress appointed a 'czar', but they couldn't confirm a Surgeon General.

Public trust in the FDA and CDC has been eroded by frequent lapses in judgement and execution.
Conclusion:
The vast majority of the scientific literature is quite insistent that there is no relationship between the present vaccine schedule and ASD. To all of the experts, 'true' scientists, and colleagues – I get it!
That fact remains that there are too many parents who have noted developmental regression proximate to a childhood vaccination. They deserve better answers.