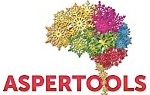 There is a great deal of medical information to be learned about the autism epidemic of this century. Aspertools: The Practical Guide to Understanding and Embracing Asperger's, Autism Spectrum Disorders, and Neurodiversity is a useful book to read and keep in our growing libraries.
It's an interesting story in it's own right.
The author is an orthopedic surgeon, professional heavyweight boxer, writer and film maker. That background, plus his life as the loving father of a special needs child, weaves a fascinating thread throughout the text.
This book is helpful for many parental challenges, not just Asperger's Syndrome.
"Everyone… should be encouraged to discover their passion and then pursue it. If you can make a living at it, and if you can help others while you do it, so much the better." Dr. Reitman talks about behaviors that get "amplified" in an Asperger's patient, so many of the insights could work with ADHD, ASD, and oppositional behaviors, as well.
It's best read by both the Asperg-er and the Asper-gee (those interacting with an Aspie).
Each chapter is presented from multiple points of view, including an expert teacher and the author's daughter, who has the condition (and more), and provides helpful hints and useful action plans.
It's a great place to start for a family looking for answers.
Patients with Asperger's Syndrome have some common challenges, for sure. However, on closer examination, there is a great deal of diversity.
Dr. Reitman covers topics such as anxiety, meltdowns, sensory issues, transitioning, repetitive thoughts and "hyper-interests", and socialization, with common sense techniques that deserve a trial.
The book also provides insights for experienced parents.
Aspertools contains information that makes sense and is easily applied to real life situations. Understanding that video games provide (virtual) socialization and an increased level of control, provides food for thought. Additionally, there are tips for limiting choices "to avoid 'No!'", practical concepts, such as breaking larger tasks into smaller ones, and the importance of time management.
Neurodiversity
Historically, the difference between Asperger's and Autism was the age of language acquisition (later in the latter). The DSM 5.0 has subsumed the diagnosis under Spectrum Disorder. The delay in typical socialization is now being recognized as a common factor.
Autism expert (and patient) Jim Sinclair first spoke about the concept of neurodiversity in 1993. Aspertools contains informative vignettes, insightful humor, pathos, and practical ways to chart a successful course for an 'Aspie'. In short, Dr. Reitman emphasizes the need to look at the world through another's eyes.
In some ways, being less obvious than their ASD cousins, Asperger's patients get the short side of research and successful intervention. This text paves the way for a better life for affected families.