This is a very preliminary report about our first 15 patients who wished to administer a trial of GcMAF for their moderate-to-severely affected children, whose primary diagnosis was ASD.
Treatment utilizes a substance derived from a purified blood product, administered weekly by subcutaneous injection. It is supposed to help 'heal' the immune system. The background information was first described here.
Patient profiles:
♦ All of the children had a complete history, physical examination, laboratory testing, and various other interventions, and were under Dr. Udell's care.
♦ All of the children were either on/ or had experience with conventional therapy (ABA, S&L, OT, PT), complementary and alternative therapies ('DAN!'), and multiple medications; from Risperdal to Prozac (conventional), Namenda to Bumex (experimental), stimulant meds to anti-anxiety preparations.
♦ Patients were diagnosed by a pediatric neurologist, confirmed and documented at each Child Development Center visit.
♦ All the children had severe speech apraxia, with very little improvement from years of S&L therapy, prompting the parents to want further options.
♦ All of the children demonstrated various and persistent repetitive behaviors, sometimes quite disruptive and/or abusive (to self and/or others).
♦ All of the children experienced social isolation.
♦ All of the patients had elevated nagalase levels (>0.95) prior to therapy.
♦ Parents were made fully aware of: risks/benefits/other therapies/no therapy and wished to proceed.
♦ All the families kept in close contact with our staff and Medical Director.
Present protocol: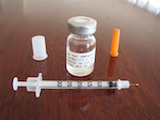 The original explanation can be found here. With increasing experience, some variations have taken place, and a more conservative protocol has evolved:
• Families obtain the product from here, and are instructed to keep the vial in the freezer. • Small syringes are ordered from the local pharmacy.
• Most of the patients prepared syringes for 5 months, freezing them for storage and hand-warming prior to administration.
• Instead of weekly abdominal or arm 'shots', a narrow angle into the buttocks appears to be well-tolerated.
• In addition to routine laboratory investigations, vitamin D and cholesterol were addressed before initiating therapy, by testing and intervention as necessary.
• The initial dose was tiny (0.02 cc) and increases were decided each week after discussion with our staff.
• Parents agreed to keep in close contact with the staff and give weekly reports about any changes.
Experience so far (1 – 8 months):
√ Older (> 5 years) seem to do better than younger children, as far as improvements in communication and behaviors.
√ In the first months, some patients have reported no change, others show dramatic improvements in signs and symptoms, and still others have exhibited very challenging disruptive behaviors that diminished with time.
√ Most parents were satisfied enough to re-order the product without nagalase re-testing or even an observation period without GcMAF.
√ To date, improvements appear most dramatic in the preteen females.
√ Two younger males discontinued the treatment because of no effect.
√ No parent discontinued treatment due to negative effects.
√ Side effects included initial hyperactivity, rashes, mild fevers.
√ In many of our patients who were tested – and found to have elevated nagalase levels – the parents were satisfied enough with their present protocol of G-I optimization and mitochondrial support, and have not initiated this therapy, so far.
Conclusions:


No definite assertions or conclusions can be made, from this limited trial, at this time.
I have been impressed, however, at the dramatic improvements that some of children have made. This includes speech acquisition and usage, cognitive function advances, and behavioral changes.


GcMAF does not work in every child, but the ones who do improve have experienced change that hasn't been apparent in many years.


So far, safety is best assured by close contact with the parents so that weekly dosages can be altered and other interventions, such as yeast treatment, can be provided.


Costs are kept to a minimum because families order and obtain the supplement directly from the manufacturer.
Discussion:
A more detailed report will be submitted to various appropriate venues for review and publication. Hopefully, someone will take notice and perform a more rigorous evaluation. Parents of affected children simply can't wait for this information, if the treatment is safe enough, not too costly, and reasonable to administer. After all, medications that are approved for behavior control are expensive, as well. Furthermore, at their best, traditional pharmaceuticals possibly diminish aggression and hyperactivity, but don't improve neurologic function.
As in all medical conditions, if you are considering GcMAF therapy for your child with moderate-to-severe ASD, you should seek advice and treatment only from a trusted professional who has examined, and is closely following, the patient.