Sulforaphane treatment of autism spectrum disorder (ASD) made the news this week. According to Johns Hopkins' researchers, an as-yet unavailable chemical derived from broccoli "…substantially (and reversibly) improved behavior…"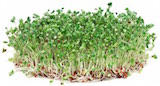 This is great news for parents and professionals who, for decades have been so deprived of clinical studies that are well – designed, performed, documented and published. Many families are now searching for the best way to get sprouts and seeds into their child with ASD.
Importantly, the proposed mechanisms behind the treatment lend mainstream credibility to the concepts of oxidative stress and the work of Jill James, who has published since the beginning of this century. "Sulforaphane, which showed negligible toxicity… upregulates genes that protect aerobic cells against oxidative stress, inflammation, and DNA-damage."

The Good:
Supplements containing some of the chemical are for sale. There are ~1mg tablets, for example, that sell for ~30¢ each.  Broccoli seeds (the sprouting kind) are available for five bucks, though I'm not quite sure what to do with them.
One virtual vitamin shop advertises sulforaphane as AVMACHOL®, and that website is no longer available. It listed "365 mg of a proprietary substance made of 25mg of glucorapharin (the desired gluconsinolate form), broccoli sprout and mushroom extract." One per day, @$ 1/per pill. Another lists Sulforaphane (From Broccoli), 0.4mg pill for only 4¢, but they were out of stock at this time.

The Bad:
There appears to be uncertainty regarding the bio-availability of the over-the-counter products. At it's molecular weight (177 g/mol), and an average 100 uM dose (50-150 reported by researchers), it seems to represent a much larger dose (?~ 18 mg) than a broccoli side dish, or even the aforementioned supplements.

The Ugly:
Two of the authors in the study have explicitly rejected any claim to financial remuneration from sales of the expected product, due to "conflicts of interest." Righteous! However, the son of one of those docs is the CEO of the new company.
Johns Hopkins University has U.S. patent applications and has licensed "… broccoli sprouts and seeds rich in glucosinolates… to Brassica Protection Products LLC." That ought to raise the price.
Conclusions:
There are hundreds of patients who have been receiving reduced, (sulfur containing – cysteine boosting) liposomal glutathione for over 6 years, with great results. It turns out that the food with the highest known levels of glutathione – broccoli – works!
Parents who are already administering DMG, TMG, NAC, methyl B12, or reduced glutathione, should be alert for possible increased stimming with this added antioxidant.