When Leo Kanner published his landmark Autistic Disturbances of Affective Contact in 1943, a contemporary wrote, "he thought what nobody has yet thought, about that which everybody sees." It's seventy years later, we're knee-deep in an epidemic with the "A" name, and the whole explanation needs to be revisited. As I have previously described, the new terminology of the DSM V will not make things any clearer, and diagnosis and treatments (especially the evaluation of them) may become even more problematic.
Patient after patient comes to The Child Development Center, whose parents are seeking answers, and each member of the medical community seems to have offered their particular version of 1) a diagnosis (usually not that helpful) and 2) a proposed treatment (usually not that helpful). The Diagnostic and Statistical Manual of Mental Disorders not withstanding (and regardless of the version), this is how I see ASD: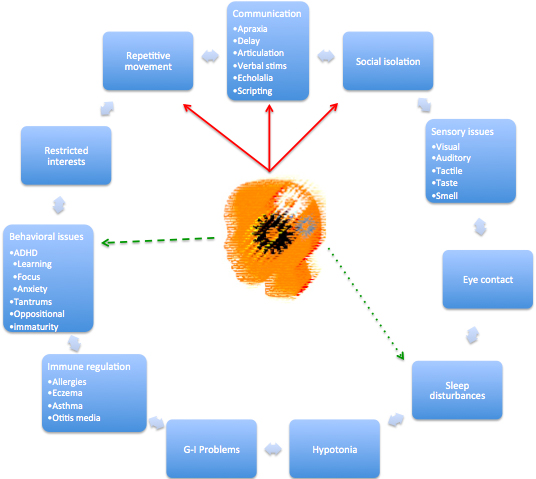 The red arrows represent the core symptom complex. However, many infants actually present much earlier with G-I problems or hypotonia, months before the onset of 'classical' autism. Studies that report early changes from expensive, invasive and risky (requiring anesthesia) diagnostic tests seem to have ignored this observation, whereas research that recognizes an abnormal cry or late crawling seems much more compelling and useful. Importantly, early recognition and correction of the medical problems associated with the immune, gastrointestinal or muscular system may lessen or even prevent the core complex of ASD.
The green arrows could point anywhere, and change as the child matures. New associations may emerge, some could get more pronounced, and others might abate. A 2 year-old with speech delay has less complex needs and thoughts than a four year-old with apraxia, so the behavioral consequences are different. The weight of the lines similarly changes with ongoing development. Each sign or symptom also has effects upon the others. For example, midnight awakenings and poor REM sleep can certainly have significant effects upon behavior and learning while fleeting eye contact will have profound effects on socialization.
Finally, it should be recognized that there MUST be some upstream environmental abnormality that leads to these observable deficits. The literature that has identified multiple genetic variations (hundreds) associated with the ASD symptom complex actually supports such a position. Common, previously unrecognized genetic variations are being discovered with increasing frequency -and humans did not simply 'mutate' in this century.
Today, the psychiatrist is only able to put a bandaid on anxiety and the neurologist can prescribe semi-useful drugs for hyperactivity. Until science discovers the over- or under-production of important proteins that result in normal CNS development, behavioral and biomedical therapy will remain the mainstay of addressing the complex signs and symptoms pictured above.
By utilizing this framework, parents can assess where their child fits in this picture and the clinician can figure an appropriate medical workup, a useful diagnosis and a measurable treatment program.