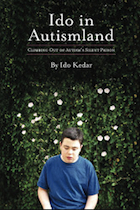 Because autism is such a mystery, reading about it from the first-person point of view can be extremely instructive. That is why the story, Ido in Autismland, is so important to this medical professional.
There are similar recent books and videos, authored by affected individuals who convey their thoughts and feelings, so that neuro-typical readers may better appreciate underlying difficulties that lead to their unusual behaviors. What makes this different are the insights provided by penetrating and descriptive prose that transports the reader into Ido's conflicted mind. It's like The Reason I Jump on steroids.
Often, the issue of facilitated communication – another person involved in the download of information – is a key sticking point to establishing that such writing represents the actual thoughts that were being put forth. The teenage author makes a concerted and convincing effort to assure the reader that the information does, in fact, come from his mind alone.
Notable insights
The ability to communicate, and the lack thereof, has been the dominating force in his development. The subtitle is "Climbing Out of Autism's Silent Prison".
Ido emphasizes that his receptive language far outpaces his expressive language. Even if he believes he knows the correct answer to a question, it sometimes comes out of his mouth incorrectly (or not at all), due to his severe speech apraxia. This is mind bending.
Stimming is helpful, anxiety reducing, euphoria producing, embarrassing, nearly impossible to control and sometimes results in disruptive behaviors that even Ido can't explain.
In addition to spoken language, the young author complains that generalized apraxia – the inability to move a variety of his muscles correctly – also interferes with his affect, hand movements (sign language and even pointing were a challenge), and the ability to interact properly in social situations.
Lack of empathy, or a sense of humor is not a sign of autism. That is merely how it appears. This kid has got soul, and he's funny.
Ido's exhortations to medical science give me help and hope.
Recommendations
If you are the parent of a young child who has been newly diagnosed with ASD, or suspect it, and you are seeking further information, this may not be a helpful read. Parents will do better to investigate medical problems, such as; G-I signs and symptoms, allergy related conditions, sleep disturbance, or other specific developmental concerns. As particular disorders are successfully identified and addressed, many atypical behaviors can be ameliorated and even prevented.
If you are an observer of this epidemic, AutismLand is an interesting read. Everyone can learn something from this journey through the mind of such a unique child.
If you are a professional who works with people with autism, you need to read this twice. The first time will be disturbing and challenge many of the basic beliefs. The second time, understanding will creep in and you will think of ways to incorporate such knowledge into your practice.
If you are an affected individual, or the parent or family member of an older child, this is a must-read. Ido discusses a variety of topics that will educate, enlighten and even entertain those who are trying to understand AutismLand.