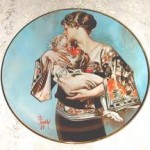 There are some great fathers out there, to be sure. Dads, don't get me wrong, I'll give you guys your due in June. I'm not judging and I have no idea how I might have done with such a challenging journey as raising an autistic child. I am simply reporting my observation that, by far, the majority of amazing caretakers out there are the mothers.
Dr. Martha Herbert has often begun her scientific presentations with a story about a friend whose adult child awoke from anesthesia and spent hours speaking normally with her mom. The daughter knew how difficult of a child she was and how much hard work her mother had done to get her to this point. After falling back to sleep and re-awakening, the daughter again exhibited her autistic personality. Dr. Herbert uses this example (plus more genuine scientific evidence) to teach that there seems to be a reversibility to ASD, and we have yet to even look at the problem in the right manner (as a whole body disorder). Her message is for moms to keep trying, as will SHE, until there is an answer.
I may not like or agree with Dr. Jenny McCarthy's self-acquired scientific prowess, but she obviously hits a nerve that has passed throughout the autistic community. Her "mother warrior" credo has helped recover many children, I am certain of that. To her credit, her message has been that the general public cannot necessarily trust conventional medical thinking about the diagnosis, etiology, treatment, and prognosis for this epidemic. Sometimes her advice about treatment appears misguided, in my opinion, but you can't blame her for seeking answers and help for her son Evan and the other children with autism.
So, in many of my posts, I write about planning, medication, special diets, supplements, and therapies. For the moms out there, that's preaching to the choir. I'm only enumerating such chores as I detail the work that every ASD patient requires. I have learned most of my art – about toilet training, time management, addressing stims, GF/CF, cluster classes, IEPs, sensory conditioning and much much, more – from the insightful and relentless mothers who are determined to help their child recover. Thank you. Thank you all for letting me examine and help care for your children. It has been one of the best experiences that I have ever had in my professional life.
The only piece of advice that I'll offer in this post is this, take some time out for yourself and your spouse. I said "some", 'cause I know that it is sometimes impossible. But, it needs to be more than "none". The number of intact families in this practice is even lower than the national average. I had a mom call me this week about which supplements we might hold off while Grandma and Grandpa assume childcare duty. She told me that she and her husband have been going away every year for many years on one special vacation and how much good that it did for the family as a whole. I had another parent express her wry disappointment when she found out that Elizabeth Mumper's Autism Retreat didn't include a spa for the parents. Not a joke, really.
Mothers are special. Mother's Day is certainly a deserved holiday. Moms of Autistic Kids? Lucky children.