The oft-repeated statement "autism is not a real epidemic, doctors didn't realize it," or "they just renamed it" has some limited degree of validity. It accounts for about 20 % of my patients, slightly higher than the reported incremental increase in ASD diagnoses.
Danny (I'll call him that) came to his Barcelona, Spain family at 3-1/2 years of age after a miserable existence in a Russian orphanage with a sketchy history other than being "very sick at 2 months of age, admitted to a hospital and abandoned by his parents." At first, Danny did not speak, could barely walk, did not respond to his name, had no hair, rotten teeth, and decreased vision – among other maladies! The family reported that he was markedly improved after 2 years. By the time that I met Danny at 8 years old, his family had provided love, nutrition, and an intense sensory stimulation program. He was a pleasant, loving young boy who was mute and seemed rather simple, he could barely read and write and seemed to adore human contact (however inappropriate it could appear).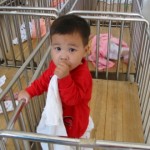 On physical examination, there were lots of patches of scaly rashes, allergic shiners, he exhibited weak core tone and appeared to have a developmental age of about 5 years.
Danny was put on a protocol which paralleled many of the treatments used in "traditional" ASD – bowel evaluation and treatment, resources to improve cellular energy and decrease inflammation, and continued work with behavioral and traditional therapies. After 5 months, he was speaking more and performing better in school (both reading with comprehension and writing), social interactions were mixed with more interactions but some aggression, and better core tone on examination.
Today, I was looking at someone who possessed both skills and potential. According to his parents, he has improved markedly in the past year in all areas of his life. He was conversant and appropriate (especially about soccer), and even had questions about his upcoming Disney vacation.  His maturity level was much more on par with his size and age, and he had experienced a great Christmas. His family has renewed hope about what his future will hold. Is everything OK now? Well, he still suffers from fear of being left alone, inappropriate aggression toward his younger brother and betwetting; but he continues to show progress.
By the way, "Danny" is not my only patient who suffers from such a tragic infancy, and Russia is not the only country of origin committing such atrocities.
I hope to continue to report about this brave young man as he conquers his past and confronts medicine's flawed understanding.